Help is Just a Click Away
Pest Control Near Ashfield – 2131
The only way to get rid of an infestation is to kill the infection's source. Work with a pest control in Ashfield firm to get rid of pests. To rid your house of bugs, ABC Pest Control Sydney will identify and eradicate the root of your problem. That piece of mind is yours, thanks to our low-cost pest control service!
You need to get rid of pests if you want to safeguard your family and property. Pest control firms may be called in as a last option. If you're having problems with pests, don't be afraid to call in reinforcements. Call us now!
Get in Contact with Our Friendly Customer Care Team
How Can You Get Rid of Pests?
There are several ways to get rid of pests. Getting rid of bugs may be as simple as removing them and throwing them away. Because pests and rodents can enter your house at any time of year, pest control must be done all year round. Begin pest control methods as soon as you detect an infestation.
When it comes to pest management in the area, ABC Pest Control may be your best option. No matter what kind of pest problem you're having, you can count on our team to handle it. Residential and commercial properties are no problem for us.
Is Hiring Pest Control Professional Effective?
You may get a lot of benefits from reaching our pest control service in Ashfield. Only one of the numerous advantages of hiring a pest control service is protecting your home from undesirable pests.
Our specialists have received rigorous training to keep them and you safe. Aside from annual certifications, our pest control experts must also be updated on industry norms and research.
Our pest control firm provides a thorough inspection, frequent maintenance treatments, and repair services. Bugs may be kept out of your home or company by using any of these methods. It's our job to keep pests out and prevent new ones from gaining a foothold in the first place.
Which is the Best Rat Control Service?
Rats are a typical source of worry for people all across the world. Rats may pose a health risk to humans due to the substances they ingest and emit.
The problem is that they aren't really a big deal in most cases. The parasites and viruses they carry can damage humans if they come into touch.
There are a lot of rat-control services out there, but not all of them are created equal when it comes to effectively getting rid of rats from your house. Preventing future problems means working with an extermination service that does more than just eliminate rats from your house.
Rats will no longer be an issue in your house, thanks to our extermination services. A variety of Rat Pest Control solutions in Ashfield are available from us to keep your family healthy and safe. Learn how we can help you by contacting us right now! Nothing beats us when it comes to rat infestations. We want to hear from you!
How Can You Get Rid Of Spiders Effectively?
One of the most prevalent household pests is the spider. The dangers of these may be found in practically every room of the house. Because of their voracious appetites, spiders are a severe threat. These creatures are voracious eaters who will gobble up anything in sight, including food, clothes, and even up-to-date technology.
When left alone, spiders will not hurt humans or other animals. This is just another reason why people adore spiders. However, the threat grows if they form a group.
Those that get in their way are more likely to get bitten by them. In order to get rid of them, you'll need their assistance.
An unpleasant scenario can arise while dealing with spiders, and ABC Spider Pest Control recognises this. We've devised a number of methods that are both safe and effective for getting rid of spiders. You may count on us if you're seeking affordable, high-quality services.
Who Has the Best Bed Bug Exterminators?
It is parasitic on both people and animals that bedbugs feed on. Beds, mattresses, box springs, and other warm, dark spaces are common breeding grounds for these parasites. Bed bugs may hide on carpets, walls, and floors, among other places. If you don't bring in bedbugs, you won't acquire them in your residence.
Contact our Bedbug Pest Control professional right now! Your home may be free of bedbugs with our assistance! We'll do a thorough inspection of your home to ensure that it is clear of bedbugs. There will be further guidance supplied to prevent a repeat of the incident.
What's the Best Way to Get Rid of Cockroaches?
The presence of cockroaches in the house is a regular source of annoyance. Food poisoning and allergy responses can be caused by the presence of these small organisms. Dysentery and leptospirosis can result from the presence of dangerous bacteria and parasites in these animals.
You may enjoy a pest-free environment with the aid of our services. To ensure the safety of your family, especially the young and old, call our pest treatment team as soon as you notice an increase in cockroaches in your home.
Flea Facts: How Much Do You Really Know?
Get ready to take the ultimate flea knowledge test! Unlike other parasitic insects, fleas feed on human blood and eject their excrement. People, dogs, and even the weather may all intrude on your personal space. In people who are allergic to insects, flea bites can cause disorders like Lyme disease.
If you want to avoid a flea infestation, you must maintain your house free of fleas. Our team of professionals will execute the task correctly the first time around. ABC Fleas Pest Control offers tried-and-true ways to get rid of fleas in your home or office. We can also help you avoid flea infestations in the future.
What Attracts Drain Flies?
Drain flies may do a lot of damage to a house, boat, or automobile. Drains and the surrounding region must be kept free of debris if you want to avoid an infestation.
They can be found in places that are warm and moist. They deposit their eggs and wait for the larvae to develop in the sewers for this reason.
Foraging for food begins as soon as they hatch, with larvae moving inside the nests and feasting on everything they can find in them. Because of this, drain flies are seen as a nuisance.
Eco-friendly and non-toxic pest treatment is available from Drain FIies Pest Control. If you're looking for a service tailored to your unique needs, we can help. You could count on us at any moment.
Every member of our team has received extensive training in the most current methods of bug management. If you're looking for a drain fly prevention strategy, we think we've found it.
What Does Our Mice Pest Control Do?
Mouse-proofing your house and yard is a common part of pest prevention. A mouse infestation may do significant damage to your home's structure as well as its contents.
Food poisoning can occur if mouse droppings infect food stored in a refrigerator or food storage unit. With our Mice Pest Control professionals on the job, your home will be safe from additional rat infestations. The spread of illness and an infestation can be prevented if quick action is taken when confronted with these pests. Contact us immediately!
Is Doing Termite Inspection Necessary?
Insect control is one of the most pressing issues in the world today. If left unchecked, wood-eating insect infestations can cause significant structural damage.
There are about 4,000 species of termites, which are insects that consume everything from books to wood. They may contaminate food and nest in wood goods like floors with their droppings. Removing all of the wood in your house is a good first step if termites are a problem.
If you detect that your house is infested with termites, you should contact a Termite Pest Control company as soon as possible. The expense of repairing termite damage to your house can be drastically reduced if you act immediately to eliminate them. We'd love to hear from you!
Who are The Best Possum Experts?
Aside from eating plants, possums may also harm crops and transmit disease, making them an unwanted nuisance. A difficulty with garden orchard food, such as fruits, vegetables, and nuts, can be a nuisance.
Possums are extremely mobile, so if you want to deal with them, you'll need to be able to scale trees and go large distances. Because of this, Possum Pest Control is able to address a wide range of pest issues that may arise in residential properties. As one of Australia's most reputable and well-known pest control businesses, we've been in business for a long time. You can rely on us to clear your property of pests.
Who Can Do Wasp Nest Removal?
One of the easiest insects to recognise is the wasp. In terms of size and colour, each species may be found all over the world, and each one is unique.
The capacity to create nests is also a well-known trait of these birds. Many abandoned structures and trees have been known to host these nests. A secure sanctuary and a supply of food lure wasps to these locations.
Wasps Pest Control in Ashfield provides eradication services for wasps, fleas, ticks, mosquitoes, and rodents to both residential and commercial customers. Reach out to us right now!
Who Can Remove My Ant Problem?
An ant infestation in the home may pose a health and safety hazard. If there are a lot of them, they can cause damage to your property and spread disease to people and animals. If you have a sweet appetite or food allergies, ants might be a concern because they usually eat sweets or syrup.
Ants should be avoided by anybody with a history of allergy. In order to keep your house or company free of ants, call Ant Pest Control now. During our exam, we'll look for ants and find out the best way to get rid of them.
Pantry Moth Exterminators: Where to Find Them?
The pantry moth is one of the most prevalent kitchen pests. If they are effective, they can do significant harm and possibly spread illness. Small brown insects abound in food storage facilities. Examples of food storage containers include cereal boxes and flour sacks.
Insects like to lay their eggs in crevices and cracks because they are easy to access. It's a great setting for germs to grow when eggs hatch and devour the stored food.
Bacterial epidemics, such as salmonella might result from this. Keeping your pantry free of pests is essential if you want to avoid a moth infestation. To get rid of pantry moths, call Pantry Moth Pest Control now! Our phone numbers are 02 876 60 589 and 0404 130 944.
Why Do You Need Pest Control at the End of Your Lease?
To avoid a pest infestation at the end of your rental term, regular pest treatment is required.
The cost, effort, and difficulty of performing pest control on your own are all factors to consider. It might be helpful to have a professional pest control service on hand in order to quickly and efficiently detect and address any problems that arise.
ABC End of Lease Pest Control is the company to call when you want the greatest service at the best price. We can manage any sort of home or business, no matter how large or little it is. Now is the time to make an appointment!
About Ashfield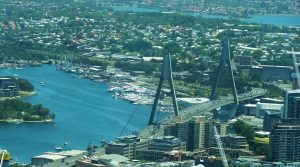 Ashfield is an inner-city suburb in the inner south of Sydney, New South Wales, Australia. It is located 8 km south of the Sydney central business district in the local government area of the City of Randwick.
This Place is a predominantly residential suburb with much commercial activity along its main street, Victoria Road. It is a once-wealthy suburb but has seen much recent change as it undergoes gentrification. 
The suburb is named after Peter Ashfield, who was Secretary for Public Lands in the colony from 1810 to 1820 and was responsible for much development in the area.
The suburb's most notable building is the former Australian Museum (now known as the Museum of Contemporary Art), which was built in 1918 by George McRae and Hugh Mackay and designed by architect Walter Liberty Vernon.
Ashfield Facts and Aboriginal Legend
The Aborigines who inhabited Australia from 40,000 to 40,000 BC were the first inhabitants of the continent. They are known as the Australian Aboriginal people. They lived in small groups and did not have any written language or agriculture. They hunted for food and used fire to keep warm. 
The first European settlers arrived in Australia in 1788, bringing diseases with them. By 1828 only 30% of the indigenous people were alive. In 1834 the British government passed the British Settlements Act allowing land to be sold to non-indigenous people.
This led to a large influx between 1865 and 1900, with around a quarter of the indigenous population being removed from their land and sent to missions across Australia. Just 3% of indigenous people are still living on their ancestral lands today.
Also check out pest control in Haberfield.
Why Use Our Pest Control Sydney Services?
Control Pest in Ashfield With ABC Pest Control!
A professional exterminator is the only option when you've exhausted all other options and still cannot get rid of an annoyance. If you're searching for pest control near Ashfield, go no further than ABC Pest Control. Bugs may appear anywhere and at any time, which makes it hard to plan for their appearance.
If you discover pests in your home or office, you must immediately contact a reliable pest control firm. When you call us, we'll send a pest control professional right away.
Using a well-thought-out assault strategy, our pest control specialists can get rid of cockroaches, mice, and rats from your home or workplace. Relax or go about your daily activities while we handle everything.
Humans and animals can both benefit from our services since we can tailor them to their unique needs. If you have any concerns regarding our services or pests, please feel free to contact us. If you have any questions or concerns, please don't hesitate to contact us at any time. 
We have 5-star rated customer reviews on our Google Business Profile. You can also check us out on True Local, Brown Book, and Local Business Guide.