Bird Lice Pest Control Sydney
Bird Lice Pest Control in Sydney
Looking for expert bird lice pest control Sydney near me services? Are you currently experiencing bird lice or bird mites' infestation in Sydney? Have you been noticing tiny and semi-transparent biting insects in your home? Do you want to understand how you got bird lice? How would you know if what you have are bird mites and not bed bugs? Do you need local pest control that are experts on bird lice removal?
Bird Mite Pest Control Sydney
Bird lice are a small parasitic insect that live on birds' feathers. They have four stages: egg, larva, nymph and adult. The nymphs and adults can cause damage and infection to the host while the eggs and larva remain hidden in the bird's feathers. However, once the young birds leave their nests, the lice have no choice but to wander for sustenance.
It could be quite an extreme inconvenience having bird mites all over your home. Also, they can bite you which is quite painful. Unfortunately, they also pose a serious health threat to humans.
Besides bird mites, we can handle all sorts of domestic and commercial pest control issues.If you are unsure if what you have are bird mites or bed bugs, you can talk to us at ABC Pest Control Sydney. Specifically, we can tell you exactly over the phone which one of these that you have.
ABC Pest Control Sydney is a trusted choice for any type of pest removal. In fact, aside from bird mites, we can also remove all kinds of household and commercial pest control needs. For instance, we offer services for termite treatment, cockroach removal, bed bug control, and many more.
You can get in touch with us for an expert bird lice removal on 0404 130 944. Likewise, you can book us here within a minute.
Further, you can certainly find us on our Facebook page or Google Business Profile.
Looking for Professional Bird Lice Pest Control Sydney Services ?
Where Do Bird Lice Come from?
Because birds provide blood for these parasites' meals, these pests will almost certainly be present wherever there are birds. In other words, these parasites will remain in the birds' nests as long as the birds are there.
Generally, bird lice in Sydney have an association with popular pest birds. For instance, they are commonly breeding in the nests of sparrows, pigeons, and mynas.
Bird mites are all over the world, particularly in countries with warm weather. In fact, they have been a common pest problem in Australia. Particularly, the infestation in urban areas in Sydney becomes prevalent as birds pest continue to inhabit homes and commercial buildings.
When baby birds mature and can fly, they leave the nest. Unfortunately, this makes the bird mites starve for sustenance as their hosts are gone. As a result, they move around to find a new bird's nest with baby birds to feed on.
Bird mites can go anywhere in your homes searching for a new food source. Specifically, this becomes a problem soon. Undoubtedly, bird lice can bite that results in severe allergic reactions.
Given that bird lice thrive on property with birds, if you already have bird problems, you can ask Detecta-Pest to treat them. We can eliminate both pest birds and their lice for good.
How To Distinguish 
Fleas, 
Bird Lice, or Bed Bugs?
Residents in Sydney would confuse bird mites for bed bugs. Apparently, if you're unsure if what you have are bird mites, you can call us at ABC Pest Control Sydney to identify them.
We certainly can help you distinguish between bird mites, fleas, bed bugs, or any other biting insect in your home. Moreover, it's easy for us to tell it even over the phone.
We understand that you're eager to find out the distinction between bed bugs from other insect pests. Therefore, we invite you to read this amazing article about bird lice, bed bugs, and fleas.
Finally, you can call our team at ABC Pest Control Sydney to discuss your need for bird lice pest control today.
Specifically, you can dial

0404 130 944


or book in under 60 seconds.
How Can Bird Lice Affect People?
When a bird's nest becomes infested with bird mites, the mites leave the nest and begin looking for a new place to breed. As a result, you will certainly see them if they begin wandering around your home.
Bird mites prefer feeding on birds' blood. However, in the absence of their favourite source, they will consume any blood even if they can't survive in it. Therefore, they can bite humans.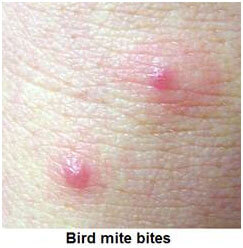 The bites of bird mites are extremely itchy. Generally, these pests usually bite the exposed skin of a person resulting in red spots on the skin. Moreover, the red spots may swell and oftentimes people would mistake them for scabies.
Their bites are not a health hazard because they do not carry or transmit diseases. However, excessive scratching of the bitten area may infect your skin. Besides, these pesky creatures may crawl on you, which could feel uncomfortable.
What Are the Benefits of Bird Lice Pest Control by Professionals?
When bird mites start an infestation on your home, it's quite difficult to stop their spread. Hence, all parts or areas of your home or business property should have the treatment. For that reason, only licensed pest experts can completely exterminate these parasites with the application of a special pesticide.
Experts always recommend that you never try toxic chemicals to eliminate these little monsters. Specifically, never use any chemical unless you know exactly how to administer it and that it's completely safe.
To completely exterminate every bird mite from your home or property, pest controllers will conduct an inspection. Surely, we need to locate all the areas with infestations to identify the coverage. Therefore, bird lice removal will be effective because all corners and spaces get the treatment.
Generally, we investigate from the rooftop where birds usually build their nests. Then, we'll check the cellar and your upper room. Also, we will go to your yard, divider voids, and even the fireplace. Generally, we will check all potential areas for bird mites to establish and breed.
We have a complete strategic program for bird lice removal at ABC Pest Control Sydney. In fact, we can discuss to you the details over the phone if you're eager to know. Hence, you are welcome to contact us anytime.
Contact Bird Lice Pest Control Sydney Experts
Bird lice pest control near Sydney is just one specialty of ABC Pest Control. In fact, our team holds the pride of providing the top-rated pest control services in the entire Sydney metro.
You can talk to us today on 0404 130 944 about enquiries and for a free quote.  Likewise, you can utilize our speedy booking system to book us in under 60 seconds. In addition check out our Google Business Profile for 5 Star Reviews. Also, look us up on Yelp, Brownbook, Truelocal.