Carpet Beetle Pest Control Sydney
Carpet Beetle Pest Control In Sydney
Looking for trusted Carpet Beetle Pest Control In Sydney? Do you have problems with carpet beetle infestation in your home in Sydney? Are you tired of seeing damage on your textiles and carpets every day? Do you finally want to get rid of these pests once and for all? Are you looking for a local beetle removal pest control in Sydney and near Sydney?
Carpet beetle larvae have been the culprits behind the massive damages on carpets and other textiles in Sydney. Specifically, the larvae of these pests have an excessive appetite for products with animal protein. For instance, they like feathers, wool, furs, silk, hair, and even insects.
Usual vacuuming of your carpet may help eliminate these pests but not completely. Oftentimes, some of their eggs and larvae can survive regular vacuum cleaning. As a result, they can continue to multiply and cause more damage.
The need for expert intervention on carpet beetle removal motivated ABC Pest Control Sydney to offer its cost-effective solutions. Generally, our experts are the most trusted in terms of effective carpet beetle removal. Also, we provide equally amazing pest control services on other critters you need to eliminate.
You can call us at ABC Pest Control Sydney on 0404 130 944 for a free quote or other enquiries. Similarly, you may book us here in under 60 seconds. Besides, you can check us on Google My Business to see more details and our customer reviews.
Looking for Professional Carpet Beetle Control ?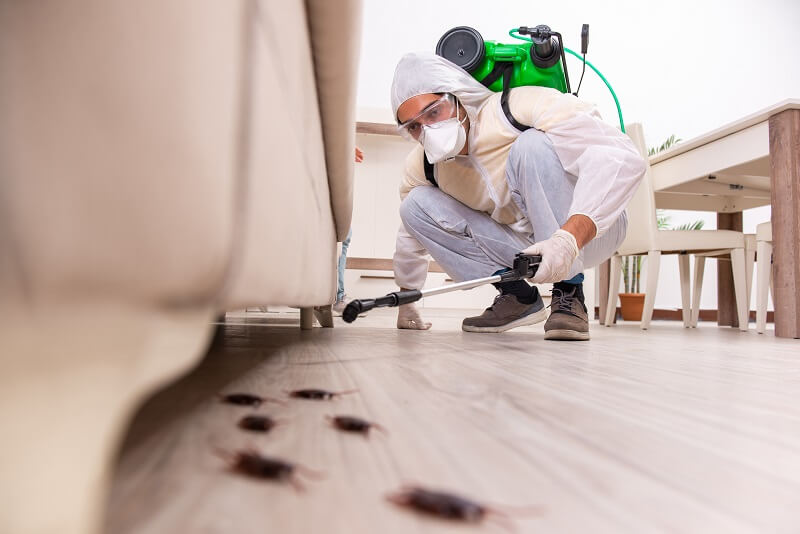 What Do You Need to Know About Carpet Beetles?
A carpet beetle is a tiny insect that may be hard to see with the naked eye. However, you'll surely realize their presence when you see the damages they leave. In fact, you would easily notice these damages in your home textiles and clothes.
Carpet beetles are one the most common pests not just at home. Primarily, they've been infesting warehouses and other places where there is the presence of their food.
To make it clear, the adult carpet beetles feed on pollen and nectar. However, what causes massive problems in your textiles and rugs at home or in the office are their larvae. Particularly, the larvae are the ones who need to feed on matters containing animal protein.
Surprisingly, you may find carpet beetles on bird's nests on your roof. Hence, it's one of their starting points to enter your home. For instance, they may crawl their way through the pipes and mover to higher parts of your structure.
Carpet beetles can also live in walls and chimneys. While there, they feed themselves with dead insects and animals.
These pesky beetles may also enter your home through any openings. For example, they can enter through your windows and doors. Once they're in, they will find areas like your furniture, clothing, rugs, and carpets to lay eggs.
You may also get carpet beetles in your home with infested items you brought in. In Sydney, they come in with the furniture you bring home and cut flowers or plants. Moreover, beetles will lay eggs on places with a rich larval food source.
How Do Carpet Beetles Grow?
In the beginning, a female carpet beetle will lay up to 100 eggs usually closer to the food source. Generally, this stage happens during the late summer and autumn seasons. Eventually, when their eggs hatch, their larvae come out and their destructive eating activity begins.
The larvae of carpet beetles prefer to feed themselves in dark and undisturbed areas. For instance, you may find them under carpet edges and furniture in Sydney.
The larvae diet includes any food source that is rich in protein. To explain, they specifically like carpets, wool, fur, silk, bedding, and felt. Also, they would obtain sustenance from floor coverings, furniture, clothing, leather, and pet hair.
Moreover, they will certainly feed on dead insects, feather dusters, and hairbrushes. Likewise, they will surely love to feed on your stored food like cereals and dried meat.
Generally, the larval stage of carpet beetles may extend up to a year. Naturally, this stage lasts depending on their food source or food supply.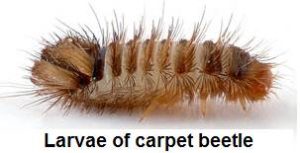 During the transition to the next stage, the larvae will shed their skins. Particularly, the last skin of a larva will shed in the pupal stage before they rise as adults.
During their adult stage, carpet beetles can live for up to 2 months. Then, the female carpet beetles usually die a few days after they lay their eggs.
Needless to say, the danger with carpet beetles is when their eggs hatch. It's because the larvae that need to consistently feed themselves are the ones causing damages. Hence, they'll feast on your textiles and anything that has natural fiber or protein. 
What Damages Do Carpet Beetles Cause?
The larvae of a carpet beetle are voracious eaters. Specifically, they need enough sustenance for them to survive the larval stage and advance to the pupal stage. Therefore, when they are in your home, they become a huge problem in Sydney.
Specifically, they can damage all textiles and valuable things you have that are rich in protein. For instance, they can consume your carpets, rugs, underfelt, wall hangings, furniture, and decorative needlework.
Unfortunately, they can also feed on your clothing and wool insulation. Besides, they can devour your insect collections and stuffed animals. Moreover, they may also continue damaging your drapery and antiques.
You may also need to check on your felts and hammers in pianos because these are also their favourite site to stay. Unfortunately, due to their infestation, there could be serious damage to the instrument affecting its tone and action.
When you see adult beetles on your window sills or doors, you certainly have to get ready to check for infestation. Therefore, you need to inspect your textile and other possible food sources of beetles in your home.
Specifically, you can dial

0404 130 944


or book in under 60 seconds.
How Can You Prevent Carpet Beetle Infestation?
You certainly can do preventive measures against the carpet beetle infestation in Sydney. In fact, there are easy and practical ways to keep them off your home or property.
Firstly, you need to have regular inspections of possible breeding areas. Obviously, beetles will lay eggs where there is enough food source for their larvae. Therefore, you need to check areas like under your furniture, mattresses, and carpet edges for example.
You would also need to maintain cleanliness in your place. Hence, you need regular cleaning of the furniture and vacuuming of potential breeding areas. Also, you will need to remove the existing bird's nests or spider webs and eliminate dead insects.
When you bring flowers inside your home, inspect the possibility of adult beetles' presence. Besides, you have to seal cracks near your windows, walls, and ceilings. Moreover, keep your blankets and linen clean and better wash them with hot water or do dry cleaning.
Lastly, if you still have carpet beetle infestation inside your premises, you should contact pest experts for advice. Thankfully, you can call ABC Pest Control Sydney for the most effective removal of carpet beetles.
Contact Us For Capet Beetle Control
ABC Pest Control  Sydney provides expert solutions to any pest problem like the carpet beetle infestation. In fact, we are a 20-year old top-rated pest control company for all carpet beetle pest control near Sydney. For instance, we deal with termites, cockroaches, spiders, bed bugs, and many more.
You can check the list of our wide range of services and competitive packages. Likewise, you can call us now on 0404 130 944 for a free quote and enquiries. In addition check out our Google Business Profile for 5 Star Reviews.
We also have a speedy booking system that allows you to get a scheduled visit with us in under 60 seconds. Hence, you can book us here today. Also, look us up on Yelp, Brownbook, Truelocal.