Help is Just a Click Away
Pest Control Near Hazelbrook – 2779
Being almost a perfect place to live, Pest control in Hazelbrook has perhaps no negative side except for the stubborn pest control issues. Living in this town of the Blue Mountains is living with a peaceful and friendly community.
If you are a new occupant of this area, you would certainly feel how friendly and caring your neighbours are offering their help in any way they can. You've got to also enjoy the gorgeous bushwalks and live a nature-rich lifestyle while still close to the city.
Every place in Australia has infestation problems. Hazelbrook is not exempted. This suburb has been in constant combat against the pesky infestations that have been causing big problems in both residential and commercial properties.
ABC Pest Control Sydney has been the most trusted and reliable ally of the occupants in Hazelbrook and has been successful in making many homes and businesses pest-free through a comprehensive, safe, and cost-effective pest inspection, extermination, and prevention.
If you want the safest and most effective way to get rid of the stubborn pests on your property, contact us today.
ABC Pest Control Services in Hazelbrook
ABC Pest Control has been providing a wide range of services in all towns in the Blue Mountains. Our packages are the most practically affordable to meet your specific needs.
Our pest experts are licensed local professionals with the highest level of training and experience. We operate in compliance with the Australian Pest Control Standards making our procedures the safest to the environment, to people, and pets.
With our extensive knowledge and expertise in pest management, we offer the most cost-effective solutions to the following:
Do any of these pests give your home or business trouble every day? Contact us today to get rid of these pesky creatures for the last time.
Get in Contact with Our Friendly Customer Care Team
Ant Control
Ants are common household pests as they would find your home a good place for food and shelter. They leave in a colony and are attracted to sweets, bread, pet food, meats, fats, and oils. Among their many species, the black ant is considered the most troublesome.
You must be worried when ants begin to settle and build colonies on your property. These industrious insects can eat your property piece by piece leaving ugly marks and damaged structures.
Ant sare aggressive insects when threatened and would bite that leave pain and can further develop into severe irritation and infection when not cleaned properly.
Ants are also prey to other pests and so they can invite other pest problems in your home or business. The most common pests that feed on ants are spiders. The most notorious ant-eating spiders are the poisonous black widow and brown recluse spiders.
Ants are indeed small but terrible insects that can damage your property and put your health at serious risk. For comprehensive and fast ant removal, contact ABC Pest Control today.
Termite Treatment
You might have already heard about the famous line, "prevention is cheaper than cure". This is a very important lesson that many home and business owners in entire Australia have already learned.
Termites can destroy a house or building with their silent and almost unnoticed activities. The warmth, moisture, and timber or wood components make your property their favourite site for shelter and sustenance.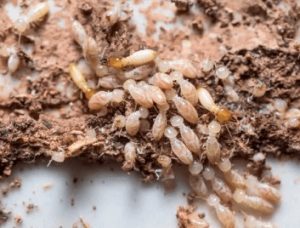 These insects would never care about how hard you worked to build your home or business. All they care about is to feed their appetite by eating every timber you have until nothing is left but irreparable damages.
Never take for granted the significance of a regular termite inspection. If there is the best way to prevent termites, that is by having a termite inspection at least every year to keep you safe from their destructive presence.
Termites constantly travel from one place to another to find sustenance and new shelter to build new colonies. If they are somewhere within 5 kilometers from your property, you better be ready. You will surely be the next victim.
Like our regular medical check-up, our property needs the same in the form of termite inspection to keep it safe from destruction.
You may contact us now for a comprehensive termite inspection, treatment, and prevention.
Also check out pest control in Lawson.
Why Use Our Pest Control Sydney Services?
How To Get Trusted Pest Control In Hazelbrook?
We know that you're hunting for reliable pest control near Hazelbrook and we have the best ones in town When it comes to pest control, there is no better company than ABC Pest Control. We have experts on site who will help you with your needs and give great results!
We are your one-stop company for all local business services. Our customer care and fast response times will make you feel like a kid in a candy store!
Check out our Google Business Profile to see what people say about us, or book an appointment online within 60 seconds. It's easy as pie! You won't be disappointed with our services, so give us a call today! Also, look us up on True Local, Brown Book, and Local Business Guide.