Pest Control Macquarie Park
Help is Just a Click Away
Pest Control Near Macquarie Park – 2113
There are many ways to get rid of annoying pests! Our pest control in Macquarie Park team can help eliminate those annoying creatures and restore peace in your homes. We know how frustrating it is when they're in the home and understand what an inconvenience they cause because who wants them?
ABC Pest Control Sydney is the best in town when it comes to eliminating pesky creatures that want nothing more than a tasty snack off our property. Our 20+ years of customer service will get rid of them fast!
Give our customer service staff a call and let them know how to help you. We want the best possible solution for you. Talk to us, and let's customise a treatment plan!
What Are The Types Of Pests In The Macquarie Park Area?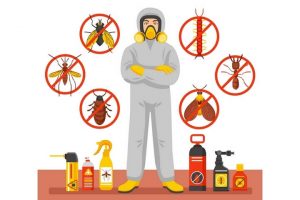 Pests can be annoying. We all know how much time and money they take to get rid of, but luckily at ABC Pest Control Macquarie Park, we've developed new techniques which work wonders on eliminating these pesky creatures!
We're here to help you keep those pesky cockroaches, rats, mice, bed bugs, wasps, spiders, ticks, possums and other pests out of your home! Give us a call today, and we will inspect, test for infestation proofing purposes, and offer solutions that work best against them all!
Get in Contact with Our Friendly Customer Care Team
What Are The Pest Control Results You Can Trust?
The expert pest controllers at ABC Pest Control Macquarie Park know that sometimes you need help to get rid of your unwanted guests. So we offer removal and protection services. Our technicians can quickly find the source and prevent infestation. We guarantee effective and fast solutions! Call us today!
What Rat Pest Control Is Available?
You can rest easy knowing that our rat pest control Macquarie Park team will be on the case if you need any help with a pesky rat problem. We understand how terrifying it is, so we'll take care not just of your home but also of your safety! We use safe treatments without harmful chemicals. 
We're here to end this pest problem once and for all. Call us today!
What Spiders Need Pest Control?
The black and redback spiders are two of the most notorious types in Australia. They're also pretty scary! But don't worry, our spider pest control Macquarie Park experts have got your back when it comes to taking care of these little monsters. 
We're always here for your pest problem needs. Contact us for an immediate and effective solution!
What Is The Best Bed Bug Removal Services?
When you think about the hassle and discomfort that bed bugs can cause, it's no wonder people want them gone as soon as possible. They're tiny and often cannot be seen unless they bite! Fortunately, our bed bug pest control Macquarie Park team has the latest technologies and tools to eliminate these pests. 
We're here to help with your pest control needs! We offer customised plans that are perfect, no matter the size or budget. Talk to us at your most convenient time!
What To Do For Bed Bug Problems?
We know how much you love your home, and we also understand that it's a place for relaxation. However, pests such as bed bugs can ruin the ambience of any space! So why not get rid of them forever? Our pest control Macquarie Park team offers a range of services proven to eliminate even the most stubborn pesky insects. Talk to us to start eliminating your unwanted guests!
The best pest control treatment is one that fits your needs! We customise the plan for you and make it easy.

We're your number one resource for all things pest. If you see an infestation, give us a call before it's too late! Our licensed experts will solve any problem immediately with our wide and varied pest control experience.
What To Know About Cockroach Infestations?
Cockroaches are stubborn and hard to eliminate. The pesky little creatures can get in your groceries and kitchenware where they spread disease-causing germs. Luckily, our cockroach pest control Macquarie Park experts have the right solutions to eradicate them. Book a consultation, and call us now before it's too late!
What Do I Do For Flea Pest Control?
You don't have to suffer through flea infestation any longer! Contact our flea pest control Macquarie Park experts today for a consultation and affordable estimate on getting rid of these pesky insects. We will ensure that these pesky monsters are gone forever using advanced technology and tools. Call us today!
What Causes Drain Flies?
Drain flies can drain your sanity and quality of life. Let our drain flies pest control Macquarie Park experts help get rid of them for good! These pesky insects will no longer wreak havoc in your plumbing system. We offer practical and tailored services to fit your needs. So, call us today to prevent an infestation!
What Are The Things To Know About Mice?
We all know the feeling of peace when we go home after work or school; however, if your house is full of pesky animals like mice who refuse to leave us alone, then you're not quite getting that satisfaction anymore. Fortunately, our mice pest control Marsfield team is here to ease your pest problems! We use advanced technologies and customised plans so everyone can enjoy their space without constant pest problems. Contact us today to make this happen!
How Often Should I Get A Termite Inspection?
Imagine the damage termites could do to your house if they were allowed free reign. These pesky eaters feed on cellulose and wood, compromising its structure! It's not uncommon for them to cause infestations near where you find foundation issues–a significant problem. 
Our termite pest control Macquarie Park team understands just how critical protecting buildings against further damages is. We know all too well what happens when people don't take care of their pest problems quickly enough: unnecessary repair costs pile up fast! Call us today and get an immediate inspection done before these little pests cause more damage!
Who To Call For Possum Removal?
We've helped homeowners across Sydney deal with pesky possums, and our possum pest control Macquarie Park team can also assist you! We offer a practical solution at affordable rates that will work for your property.
The plague of these pests is all too real! They're dirty and dangerous, with the potential to kill you or someone close. These animals have been known for carrying diseases like leptospirosis, which can be fatal if contracted by humans; they also transmit tuberculosis. Call us before it's too late!
What To Do For Wasp Nest Removal?
Wasps stings are excruciating! These pesky insects can sense noise and will be on the move if you come too close. Call our wasp pest control Macquarie Park team for professional help to remove any wasp nests that may have appeared near your property line. 
These pests are known for their territorial nature and would attack anyone, especially children. We'll get rid of them so that your outdoor space stays safe from these little monsters. Call us today to schedule an appointment!
Who Provides The Best Ant Extermination Services?
Ants can cause quite a hassle for homeowners but not anymore because we'll take care of eliminating them. Whether it's a massive colony or just one pesky egg, our ant pest control Macquarie experts can rid them in an instant!
No one wants to deal with pesky pests, but it's a fact of life. Thankfully, we have the latest techniques for keeping them away so you can enjoy your home free from worry! Our services are highly effective and guaranteed safe – ask our customers. Talk to us to make your property pest-free!
How To Find Pantry Moth Pest Services?
The pantry moths in your kitchen are driving you crazy! These pesky insects love sweet food and ransack your groceries for snacks. Fortunately, our pantry moth pest control Macquarie Park team knows the proper methods of eliminating these creatures. We offer immediate response times at affordable rates. Talk to us, and let's customise a treatment plan for your pest control needs!
Where Can I Get Tick Removal Service?
It's hard to enjoy if pesky ticks constantly pester you. Luckily, our tick pest control Macquarie Park team is here for fast removal services that will leave your skin free from their grasp! These little monsters also suck the blood of humans, which makes them dangerous for small children because their bite can carry diseases like Lyme disease! Contact us before it's too late!
How To Find End Of Lease Pest Control Services?
We know how important it is to keep your property pest-free while you're moving out or renting a new place. That's why ABC Pest Control Macquarie Park offers seamless end of lease pest control services, ensuring that even after the tenant has moved out, there will be no more pests at this address even after tenant has moved out!
We understand that finding the perfect fit for your budget can be difficult. No matter what situation or needs, we have a program to suit them! Give us a call today and start tailoring a pest control treatment for you!
Why Use Our Pest Control Sydney Services?
Macquarie Park Area Sydney Population
Macquarie Park (or MacPark as it is now commonly referred to) is a central business district located in North Ryde, Sydney. It has great significance for the city's economy because many corporations have their headquarters there. The population recorded 8,144 residents at the 2016 Census.
Stories and Aboriginal Legend of the Macquarie Park Area NSW
The Aboriginal Legend of the Bunyip is a tale of fear and mystery, not describing what the mythical Bunyip looks like. It warns about staying safe and not getting lost in the land of the Aboriginals.
The legend tells us that you must leave 'X' marks where you have been so you will be able to find your way back. The Bunyip will track you down and eat you if you don't leave marks.
The Bunyip is also a warning that if you find yourself lost in Aboriginal land, stay put – never wander about – as it may cause conflicts with Aboriginals tribes who have been known to kill "white invaders" on sight or even without warning. The Bunyip was used to keep children safe, away from waterholes and certain parts of the land where tribal disagreements existed with other tribes.
Also check out pest control in North Ryde.

How To Get A Trusted Pest Control Service?
We'll put a stop to your pest control needs. Call ABC Pest Control Macquarie Park today, and we will provide an expert solution tailored specifically for you! Our professional team will identify the problem areas and tailor effective and affordable plans.
We're more than just pest control – we'll take care of you too! Our 24/7 service friendly staffs are always available to help with any questions or concerns you may have. Book a service online in less than 60 seconds!
We have a pest control near Macquarie Park page where our happy customers gave us 5-star reviews. We value your safety above all else. Contact our hotline 0404 130 944, and our team will be glad to assist! You can check out fantastic customer reviews on our Google Business Profile. Also, look us up on Yelp, True Local, and Fyple.