Help is Just a Click Away
Pest Control Near Crows Nest – 2065
Everywhere in Sydney faces the long-running pest control in Crows Nest including the suburbs in Lower North Shore. The quick development of this wonderful locality has not decreased the number of pests staying. In fact, they've been exponentially increasing in number year after year.
It's certainly annoying to have any form of infestation. However, it's more of a dangerous situation when pests begin to destroy your place and spread diseases. Therefore, you shouldn't let them stay on your property any longer.
On the off chance you need expert treatment of any kind of pest problems you can book or call ABC Pest Control Sydney. Our team is equipped and ready to eradicate whatever irritations you have at home or business.
We comply with Australian pest control regulations. This means that we work with the highest regard for safety and quality. With that, we guarantee that our services are the safest to the environment, people, and pets.
Our wide range of services includes all the most common household and commercial pests. Whatever pest infestation you have, we can come for your rescue. We can resolve your problems with termites, rodents, cockroaches, fleas, ticks, birds, and any other pesky creature.
We understand that every property has a unique form and level of infestation problems. In that regard, we design our services to specifically address your needs and match your budget. You may have a look at our competitive packages on this website.
Get in Contact with Our Friendly Customer Care Team
Professional Termite Treatment – Crows Nest Sydney
Your property is like a paradise for termites. The perfect combination of moisture and warmth makes your place the perfect site for their survival. Moreover, the use of timbre in the construction of your property makes a good source of food for these wood-hungry insects.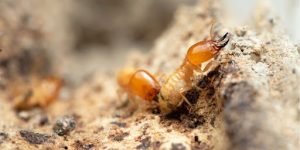 Termites can destroy even the strongest and the biggest house or building that contains timbre. If untreated, they gradually begin from the foundation of your structure. This is your floor to your walls and ceilings and they won't stop until they devoured every piece of wood that you have. If you don't know yet, these pests have been causing billions of dollars of damages every year in entire Australia.
Did you know that you are at risk of a termite infestation if they currently are active within 5km in radius from your location? Yes, if your neighbours have these pests now, you can certainly expect to have them any day from now. They are extremely restless and will move constantly to find a new home to expand their colony.
If you want to be safe from the destructive termite invasion, you need to consider a regular termite inspection once or twice annually. It would also be of great help to install a termite barrier system around your property to have long-term prevention against termites.
Immediate termite treatment is also necessary if your property is already infested with termites. Do not try to disturb their presence as that may just aggravate the problem. To remove them properly, you need to reach out to your local termite experts in Crows Nest for the best solutions.
You can book the top-rated ABC Pest Control team for the safest and most effective termite solutions.
Why You Need Tick Infestation Treatment – Crows Nest Sydney
Ticks have been a common infestation problem, particularly in residential areas. These pests don't just pose danger to your pets but also your family.
Ticks love the warm or humid climate. They usually live outdoors in grass, trees, shrubs, and leaf piles. However, since they feed on blood to survive, they move closer to their food source. For instance, their sources of blood are birds, reptiles, amphibians, and mammals.
If you have pets like dogs, they become a vulnerable target of ticks. Your pets usually catch them from other pet dogs when you went out with them for a walk in the park or the neighbourhood. Therefore, through this, they can easily get access to your home and expose not just your pets but your family to their dangerous bites.
Tick bites are painful and may result in swelling of the bite site. However, what's more dangerous about their bites is the chance of your pet or your family acquiring infectious diseases. They can spread Lyme disease, Tularemia, and Rocky Mountain spotted fever to name a few. Moreover, tick bites can also trigger allergic reactions.
In case you see signs of tick infestation, you better be quick in contacting pest control experts to address the problem. Ticks can spread all over your property. This is the reason why you can't easily remove them by yourself.
Inspection before treatment is necessary to properly eradicate ticks. Contact ABC Pest Control in Crows Nest now for help. You can book our experts or call us for details.
Expert Cockroach Removal
Why do you have cockroaches at home or in your business? Are you hopeless to ever find the best solutions to your stubborn cockroach problem in Crows Nest? What's the best way to get rid of these creepy insects effectively?
Cockroaches are scavengers and so they must have found your home or business as they travel to find sustenance. However, poor property hygiene and sanitation certainly attract these insects as they love dirty places. Therefore, your untidy place, particularly your kitchen and toilet, invite these pests to visit and stay.
Just like everyone else, you must have used your slippers, sprays, and baits to kill cockroaches but they seem to never run out of number. You've done almost everything and yet you still have them crawling around at night surprising you when you turn on your light. You're not alone because we've all gone through that.
Eliminating cockroaches is quite impossible if you only do it by yourself. However, there is a quick treatment to remove cockroaches easier and faster if you coordinate with your local pest controllers.
Effective cockroach removal requires a comprehensive check of the coverage of the infestation to ensure nothing is left behind during the treatment. Unfortunately, leaving a single cockroach or an egg alive will surely fail the procedures.
ABC Pest Control in Crows Nest has been Sydney's best in terms of cockroach removal. If you want immediate help with cockroaches, book or call us today.
Why Use Our Pest Control Sydney Services?
How To Get Trusted Pest Control In Crows Nest?
We're here to help you get rid of those pesky pests immediately! Give us a call, and we'll do it without leaving any traces behind. ABC Pest Control will take care of inspection and treatment plan implementation, so there is no need for tedious work on your part.
With our pest control service, you can sleep well at night knowing that the experts are on-call 24 hours a day and will be there in case of an emergency. Book a service online today in just 60 seconds!
Don't trust just any company when you need a Pest control near Crows Nest. Our 5-star rated customers have found us the most reliable and affordable service in town! Book an appointment with our quick & easy process that takes less than 60 seconds today for guaranteed results. The feedback we've had on our Google Business Profile has been fantastic. You can also check us out on Yelp, True Local, and Brown Book.
Or talk to us on hotline 0404 130 944 for a customized plan!
Also check out pest control in St Leonards.