Pest Control Denistone East
Help is Just a Click Away
Pest Control Near Denistone East – 2112
Do you need a reliable and affordable pest control in Denistone East to eliminate unwanted guests in your home? Have pests been invading your property? Luckily, ABC Pest Control Sydney is here! 
We have been protecting homes from pests for over 20 years. We offer excellent customer service and low rates, so you can rest assured that your home will be safe again!
We're always ready to help! If you have any questions or problems, our 24-hour customer service staff will be more than happy to assist. We want pests solved as soon as possible and we enjoy knowing that it helps put people's minds at ease. So, call us to discuss a customised plan for you!
What Are The Types Of Pests In The Denistone East Area?
The pests in your house are driving you crazy and stressing out. ABC Pest Control Denistone East has the latest techniques to guarantee getting rid of them once for all! Give us a call today so that these pesky creatures don't bother anymore; we'll make sure everything's taken care of before it gets worse!
Call us today so our expert staff members can discuss what solutions work best! Hire the right company for your home, and leave these cockroaches, rats, mice, ticks, fleas, possums, spiders and other pesky insects where they belong. We've got you covered from inspection to perimeter protection with no more pesky creatures anywhere on your property!
Get in Contact with Our Friendly Customer Care Team
What Are The Pest Control Results You Can Trust?
When you think about the pests that prey on your homes, they add up to a lot of stress. These creatures keep coming back for more food or warmth so it's best to leave them with professionals like our pest control Denistone East team! Call us today and let us take care of everything right away – live in peace again!
What Rat Pest Control Is Available?
There are so many different types of pests in this world, and some can be really pesky, like rats! You might not know it but rats rank near the top as far as annoying or harmful goes! They bring disease with them everywhere they go which means that if you don't get rid of these guys fast enough your home could quickly turn into an infestation. 
Call our rat pest control Denistone East Team immediately. We guarantee safe treatment for all sorts of rat problems!
What Spiders Need Pest Control?
Black and redback spiders are some of Australia's most aggressive types of spiders. They can be hard to get rid of, but our spider pest control Denistone East team has an effective method!
You can get rid of pests once you call the professionals. We'll make sure and prevent another infestation because we know how! Call us immediately for an appointment today, before it gets worse!
What Is The Best Bed Bug Removal Services?
Bed bugs feed on people's blood while they hide out waiting for their next victim. If these pests invaded certain areas of your property, don't hesitate to reach out! Our bed bugs pest control Denistone East team specialises in pest extermination.
We're here to help you! Talk to us anytime and customise an effective yet affordable plan just right for your needs!
What To Do For Bed Bug Problems?
We know it can be difficult to find a reliable pest control company. But we're here for you! Our bed bug pest control Denistone East will help rid your home of those pesky monsters and make sure everything's safe again, so call us today!
We have a team of experts who can create treatments to suit your needs! We're committed, dedicated and serious about our work.

We can't be sure until you see an infestation, but our licensed experts will take care of it for good!
What To Know About Cockroach Infestations?
Who wants to keep living in an apartment with cockroaches crawling all over? Not you! These bugs cause infestations and carry diseases, so it's risking your health by having them around.
We have the knowledge to get rid of pesky cockroaches for good! Our reliable cockroach pest control Denistone East experts are trained in thorough inspections and treatments that will leave your home free from these creatures. Hurry up, call us today so we can make it happen!
What Do I Do For Flea Pest Control Denistone?
We all know how frustrating it is to deal with flea bites. They're just so annoying! And their persistence in biting even when you try to shoo them away makes the problem worse. Worry no more because our flea pest control Denistone East experts can help rid these stubborn insects which means no more pesky little bloodsuckers will pester you, especially at night time.
Get in touch with our experts today!
What Causes Drain Flies?
So you've got drain flies again? No need to worry! Our drain flies pest control Denistone East team of experts will work with your pipes in a way that does not use harmful treatments, getting rid of them for good this time around.
No one likes having pests around. If you call us now we can help get rid of them for good!
What Are The Things To Know About Mice?
There's a huge problem with mice, and it isn't just because they chew through anything! The persistence of these pesky creatures often means we have no chance at all. One way to keep them away from your food sources can be by removing any leftover meals or loose groceries bags which may contain treats–but if this doesn't work? You need professional help from our mice pest control Denistone East team who specialise in eliminating them for good!
We have the solution to get rid of those pesky mice. We will create a plan specifically tailored for your needs, so contact us today!
How Often Should I Get A Termite Inspection?
The damage termites can cause to your home is significant, so it's important that you get an assessment from professionals such as our termite pest control Denistone East team as soon as possible! Infestations are usually near the foundation. 
Termite pests can be quite destructive; after all, there's no telling what havoc these creatures could cause if left unchecked. Contact our team to prevent losses!
Who To Call For Possum Removal?
While you may think that possums are cute and harmless, our possum pest control Denistone East experts say otherwise! We know how to get rid of pesky creatures like these. We'll quickly eliminate them so your home is restored in perfect condition!
The worst-case scenario when you find a possum in your home could be quite scary. They are known for carrying many diseases that could lead to death such as leptospirosis and TB which if left untreated over time could be fatal.
We're here to help with this pest problem! Give us a call and we'll take care of you quickly.
What To Do For Wasp Nest Removal?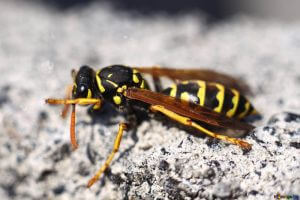 Wasps attack anything that triggers them. Keep away from them when possible, especially children because of their excruciating stings! Let the experts handle these pests and call our wasp pest control Denistone East team immediately!
Get rid of the bad wasps with our specialists and have an awesome time at home. Call us to get everything under control.
Who Provides The Best Ant Extermination Services?
We're the team you can count on to take care of your ant problem. Whether it be an infestation or just one pesky egg, we've got what's needed for pest control in Denistone East!
We have a wide variety of pest control services available to keep pesky insects out. You deserve nothing but excellence and we're here for you every step along your journey! Give us a call today to regain peace on your property.
How To Find Pantry Moth Pest Services?
We have the solution for you if your home has been infested with pantry moths! Our pantry moth pest control Denistone East experts can stop this problem at its source. We offer quick response times and reasonable prices, so don't hesitate to call us today!
Where Can I Get Tick Removal Service?
Ticks are tiny parasites that feed on several animals' blood. They're attracted to mammals and birds! These pesky creatures' bites leave causes redness or swollen skin which may lead up to life-threatening allergic reactions. Luckily, our ticks pest control Denistone East team has the knowledge needed for removing these unwanted guests ASAP! So call us today before an infestation occurs!.
How To Find End Of Lease Pest Control Services?
Have you been dealing with pest infestations in your home? Do you need pest control Denistone East services before moving out of your property? Our end of lease pest control process ensures that your property is pest-free before another tenant moves in so you won't have to worry about anything else. 
Whether you need a one-time program or long term, we're here to help. Talk to us about what would be best suited for your needs – no matter how big or small they are. 
Why Use Our Pest Control Sydney Services?
Denistone East Area Sydney Population
Denistone East is a suburb in Northern Sydney, Australia. It's 16 kilometres northwest of the Sydney central business district and has been called "the newest town inside an inner-city council." It has a population of 2250 as of the 2016 census.
Stories and Aboriginal Legend of the Denistone East Area NSW
The main story tells of a man called Ngunawal who brought fire to his people.
According to the legend, Ngunawal was travelling through the area when he noticed smoke coming from a hillside. He followed the source of the smoke until he came upon an elderly man who was holding a burning branch in his hand. The old man explained that the fire had been brought to him by his ancestors and that he was the caretaker of this fire.
He explained that in order to keep the fire alive, it had to be given water every day. The old man then instructed Ngunawal to collect water from a nearby stream and bring it back so that he could give his ancestors their daily gift. Once the young man did this for a few days, the old man sent him on an errand to collect food so that he could prepare it over the open fire
As Ngunawal went about his business, he discovered other men who were holding burning branches in their hands. The young man soon realized that these must have been the ancestors of other people. Ngunawal learned many things by observing the other firekeepers and was taught how to make spears and boomerangs as well as discover which plants were fit for eating. As he travelled around the area, Ngunawal found his own tribe and shared what he had learnt with them.
Also check out pest control in Denistone.

How To Get A Trusted Pest Control Service?
We know you're busy. ABC Pest Control Denistone East wants to make your life a little easier by taking care of everything from inspections through treatment plans using our up-to-date technologies for a hassle-free pest control experience! 
Why go anywhere else if we have everything you're looking for? Book a service online in less than 60 seconds, available 24 hours per day and 7 days a week. However, our physical store is not open 24/7.
We have a pest control near Denistone East page with 5-star ratings and an easy booking process that takes less than 60 seconds. You'll be glad to know your home or business is safe with us! You can check out fantastic customer reviews on our Google Business Profile. Also, look us up on Yelp, True Local, and Fyple.
Or contact us thru our hotline 0404 130 944 today, and we will fix your problem fast!