Help is Just a Click Away
Pest Control Near Wakeley – 2176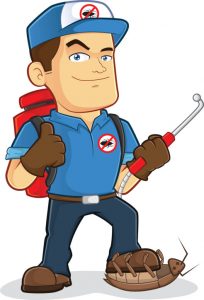 Do you need to contact a local company for pest control in Wakeley? Are you exhausted by pests infesting your property? Moreover, are you in search of a reliable pest control service in Wakeley? 
ABC Pest Control Sydney is here to provide an ideal experience with pest eradication. We know what our customers want because we've been in the pest control business for over 20 years. Because we operate with pet and kid-friendly products, our services will make your home pest-free right away. If you want to stop the spread of pests immediately, contact us.
Get in Contact with Our Friendly Customer Care Team
Kinds Of Pests Eradicated By Pest Control Wakeley
Pests such as bed bugs, cricket, spiders, wasps, mosquitoes, termites, rodents, silverfish, moths, etc., are the pests that keep infesting the properties of Wakeley. ABC Pest Control will attend to all kinds of pest problems under the sun.  We offer cost-effective pest control services to our customers based on their pest problems, which is why our services are in high demand.
Different Kinds Of Pest Control Services In Wakeley
Our trained and experienced team members conduct residential as well as commercial pest control in Wakeley. ABC Pest Control offers a complete investigation visit to the property and recommends a suitable measure according to the seriousness of the situation. Also, we give a 12-month warranty on our services to eradicate further pest infestation.
Pest Control Near Wakeley Removes Beetles Easily
Did you know that beetles can destroy your expensive carpets and textiles? Are you tense regarding the increase of beetles in your house? Do you find beetles even after using all the DIY techniques? ABC Pest Control is reliable in the complete removal of beetles from your home, even the tiniest larvae on the carpet. You will be satisfied if you use our low-cost pest control near Wakeley to remove beetles right from the bird's nest, which is thought to be the source of the beetle infestation in the home.
Why Use Our Pest Control Sydney Services?
We Safely Remove Spiders From Your House
Spiders are considered to be scary and leave a painful bite. At ABC Pest Control, we remove spiders effectively.  Our knowledgeable and trained team will have your home spider-free in no time, so you won't be afraid to see the eight-legged critter crawling around.
Rat Removal Pest Control In Wakeley
Are you tired of the increasing number of rats on your property? Are you scared of the diseases that these rats may spread? Are you in search of a solution that is cost-effective? ABC Pest Control offers customised plans and packages to eradicate rats. Contact us to book our services if you are thinking of making your household free of rats.
Reasons To Hire Abc Pest Control Wakeley
ABC Pest Control is famous for providing top-notch pest control services in Wakeley. We not only provide effective pest control treatments, but we also give excellent after-care. People pick us for a variety of reasons, including:
We make your house free of any kind of pest

12-month warranty

Residential as well as commercial pest removal services are available

Free advice and

free quotes

are available for the interested clients

Experienced team members with more than 20 years in the profession
For more information about our location and customer reviews, find us on Google My Business.
About Wakeley
Wakeley is 34 km away from west Sydney and is a suburb in Sydney. Daniel Wakeley is known to be the early settler of Wakeley, and the suburb is named after him. It primarily used the suburb for farming, but now it is developed as a residential area. 
King Park Public school and Mary MacKillop college are the educational institutions in Wakeley. Charity Center and Salvation Army are also present in Wakeley. You can easily explore Wakely in one day. Before heading to the neighbouring cities, visitors make a small halt at Wakeley. 
Top Locations In Wakeley
Some of the top locations in Wakeley are:
Aria Restaurant

Jamberoo action park

Bradman museum

Harper's mansion

Bluetongue stadium

O Bar and Dining
How To Get Trusted Pest Control In Wakeley?
We know how hectic life can be. That's why ABC Pest Control will take care of everything from inspections to treatment plans using our up-to-date technologies so you don't have to worry about a thing!
That's right, go ahead and schedule your service without ever having to leave your home. We have the most affordable prices around with super fast appointments available 24 hours per day 7 days a week! Book a service online today!
We know that you're busy and just want to get the job done, so check out our Pest control near Wakeley page easily with 5-star ratings! The feedback we've had on our Google Business Profile has been fantastic. You can also check us out on Yelp, True Local, and Brown Book.
Or call us at 0404 130 944 today, and we will solve your pest problem fast!
Also check out pest control in Fairfield West.